Hello all!
Ok, I know we're almost done with January, so a 2017 goals post isn't really appropriate, but I'm doing it anyway. I obviously haven't been making blogging a priority, so while I'm still reading blogs every morning, I haven't written anything down in months. 😮 That is going to change! I am in the process of training for a race, and I have some big goals for the year, so I have plenty to write about.
First, let's catch up!
2016 Recap
Since I never wrote up a 2016 recap post, I'll do a quick summary here. In 2016 I ran several 5ks (finally broke 25!), a trail 15k, two half marathons (Indy Mini, Nearly Sane Trail Half), a trail Ragnar, and my first marathon (Chicago Marathon). Overall, I logged 1044 miles, which is the most I've ever run in a year (2015 was around 620). In addition to hitting several running milestones, I also took a course to become a certified personal trainer (more about that in a minute). From that I learned a lot, and have been much better about incorporating strength training into my fitness schedule.
Goals/Plans for 2017
Some friends and I started talking about a destination race at the end of 2016. First we decided on the time–Spring break is the only real time I get off during the semester, and it is a perfect excuse to go somewhere warm after enduring months of cold weather. Once we had decided the time, we had to choose a destination. After some deliberation, we decided to sign up for the San Diego Half Marathon. I am now in week 6 of my training plan for this half, and am committed to breaking 2 hours! Here's to hoping I can make it happen. 🙂
After the marathon last year, I started thinking about my next big goal. I got the idea of a half Ironman in my head, and haven't been able to get it out. Luckily, I was also able to convince my friend Beth that it was a good idea. Then she convinced our friend Amy. That means that this year the three of us are going to tackle a half Ironman: 1.2 mile swim, 56 mile bike, and a half marathon (13.1 mile) run. It's certainly a lot, but it will be a great challenge, and I will enjoy training for it. Although we haven't signed up yet, we are planning to participate in Steelhead 70.3, which is in southern Michigan on August 13. I don't have any time goals for this, I will just be happy to finish. I am pumped!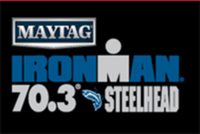 Last week, I passed my ACE personal trainer certification exam, so I am officially an ACE certified personal trainer! 🙂 I am going to be working at our university gym part time (very part time, only ~4 hours a week), which will help me ease into personal training and learn more about the process. I'm extremely excited about this opportunity because it is something very different for me, allows me to help others on their fitness journey, and forces me to continue to expand my knowledge about health and fitness. I am also planning on having semi-regular blog posts about personal training.
Outside of fitness, I am planning on completely my preliminary defense this semester (late April), which is a huge milestone towards my PhD. It is basically a presentation to your committee that includes a literature search, a summary of what you have completed so far, and a plan that explains and details what you plan to do to finish your degree. Once this is finished, you have to complete two more semesters of research, and then you can present your dissertation (assuming you have finished all of the proposed research). Having an end in sight really helps my motivation levels. 🙂
That's it for now. I hope to be much more regular with my posts, but when I get busy with school, this definitely takes a back seat. I still manage to watch Netflix and browse the internet though, so I'm going to try to be more mindful about using breaks/downtime to keep up with the blog.
What are everyone's goals for the year?